Reflex Nutrition Acetyl L-Carnitine
Acetyl L-Carnitine is from UK based company Reflex Nutrition. The supplement description states that it is involved in the metabolism of food into energy and is in the category of weight management. This review will examine the ingredients within Reflex Nutrition Acetyl L-Carnitine to understand how this product can achieve this.
Acetyl-L-Carnitine
L-Carnitine is a dipeptide made from the essential amino acids lysine and methionine. L-Carnitine plays an important role in fat metabolism by allowing long chained fatty acids to pass through the mitochondrial membrane (1, 2).
Maltodextrin
Maltodextrin is a polysaccharide which is a complex carbohydrate. This ingredient is water soluble and unlike other carbohydrates, is easily digestible (3) and can give a quick release of energy without any spikes of glycaemia (4).
Magnesium Stearate
Magnesium stearate does not induce any nutritional benefits. The main reason for this substance being in the supplement is that it is a lubricant for the machinery that manufactures the product.
Silicon Dioxide
Silicon Dioxide doesn't add any nutritional benefits to this supplement. The main reason for silicon dioxide in this supplement is that it aids in the even distribution of the active ingredients in this supplement.
The description of this supplement stated that it can aid in the metabolism of food into energy. The research suggests that this supplement can achieve this and aid in weight management. This product is ideal for someone who wants to achieve weight loss. This product is recommended to be taken post workout, preferably before a meal. This product has no banned substances in reference to the WADA prohibited list when observing the label/ingredients posted on the website.
*NOTE – This product has not been tested in a laboratory and may contain other substances that may not appear on the label
1 – Siliprandi, N., Sartorelli, L., Ciman, M., & Di Lisa, F. (1989). Carnitine: metabolism and clinical chemistry. Clinica Chimica Acta, 183(1), 3-11.
2 – Müller, D.M., Seim, H., Kiess, W., Löster, H. & Richter, T. (2002) Effects of Oral l-Carnitine Supplementation on In Vivo Long-Chain Fatty Acid Oxidation in Healthy Adults Metabolism, Volume 51, issue 11, (pp. 1389-1391)
3 – Haralampu, S. G. (2000). Resistant starch—a review of the physical properties and biological impact of RS< sub> 3. Carbohydrate polymers, 41(3), 285-292.
4 – Roberts, M., Lockwood, C., Dalbo, V. J., Tucker, P., Frye, A., Polk, R., … & Kerksick, C. (2009). Ingestion of a high molecular weight modified waxy maize starch alters metabolic responses to prolonged exercise in trained cyclists. In FASEB abstract.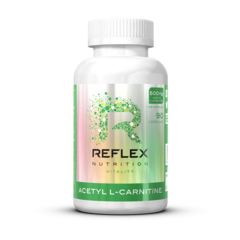 | | |
| --- | --- |
| Use for |  Weight Loss |
| Website |  reflex-nutrition.com |
| Price |  £17.00 |