Protein World Carb Blocker Review
Carb Blocker is a product from UK based company Protein World. The supplement claims that it can help contribute to weight loss by increasing metabolism and reduce cravings. This review will examine the ingredients within this product to understand how the ingredients can achieve this.
White kidney bean extract
White kidney bean extract is otherwise known as Alpha – amylase inhibitor isoform 1. This substance is extracted from legumes. It has been found that it can block carbohydrates by inhibiting the digestion of starch (1), these carbohydrates are either excreted out of the body or fermented by colonic bacteria (2). It has been found that over long periods of time it can reduce body weight and body fat levels (3,4)
Garcinia Cambogia
Garcinia Cambogia or hydroxycitric acid (HCA) as it is also known is a byproduct of citric acid. The benefits of HCA includes blocking fat and reducing cholesterol. HCA stops citrate lyase from converting various sugars and carbohydrates within the body to fat. This will also lead to a reduction of cholesterol. (5,6). Metabolism is also boosted as HCA can help balance chemical reactions within the body thus helping the process become more efficient (7).
Chromium
Chromium has been found to help with the body's insulin response (8).
The ingredients in this product meet the claims that it can increase metabolism and reduce cravings. It is recommended to consume these capsules post workout. This product has no banned substances when referring to the WADA prohibited list when observing the label / ingredients posted on the website. 
*NOTE – This product has not been tested in a laboratory and may contain other substances that may not appear on the label
1 –  Layer P, et al Effect of a purified amylase inhibitor on carbohydrate tolerance in normal subjects and patients with diabetes mellitus . Mayo Clin Proc. (1986)
2 – Boivin M, et al Gastrointestinal and metabolic effects of amylase inhibition in diabetics . Gastroenterology. (1988)
3 –  Udani J, Hardy M, Madsen DC Blocking carbohydrate absorption and weight loss: a clinical trial using Phase 2 brand proprietary fractionated white bean extract .Altern Med Rev. (2004)
4 – A Dietary Supplement Containing Standardized Phaseolus vulgaris Extract Influences Body composition of Overweight Men and Women. 
5 – Heymsfield, S. B., Allison, D. B., Vasselli, J. R., Pietrobelli, A., Greenfield, D., & Nunez, C. (1998). Garcinia cambogia (hydroxycitric acid) as a potential antiobesity agent: a randomized controlled trial. Jama, 280(18), 1596-1600.
6 –  Preuss, H. G., Rao, C. V., Garis, R., Bramble, J. D., Ohia, S. E., Bagchi, M., & Bagchi, D. (2003). An overview of the safety and efficacy of a novel, natural (-)-hydroxycitric acid extract (HCA-SX) for weight management. Journal of medicine, 35(1-6), 33-48. 
7 – Kriketos, A. D., Thompson, H. R., Greene, H., & Hill, J. O. (1999). (-)-Hydroxycitric acid does not affect energy expenditure and substrate oxidation in adult males in a post-absorptive state. International journal of obesity and related metabolic disorders: journal of the International Association for the Study of Obesity, 23(8), 867-873.
8 – Broadhurst, C. L., & Domenico, P. (2006). Clinical studies on chromium picolinate supplementation in diabetes mellitus—a review. Diabetes technology & therapeutics, 8(6), 677-687.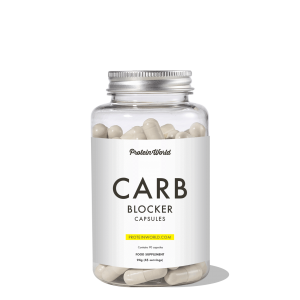 | | |
| --- | --- |
| Use for | Weight Loss |
| Website | ProteinWorld.com |
| Price | £9.99 |