Matrix BCAA Tablets Review
Matrix BCAA Tablets are from UK Based company matrix-nutrition.co.uk. The product description states that these tablets will help maintain and promote muscle growth as well as this it can prevent the delayed onset of muscle soreness (DOMs), which can accelerate the recovery from intense exercise. The following review will aim to understand how and if the ingredients in this supplement are useful with the relevant research available.
Active
Leucine / Isoleucine/ Valine
Leucine, Isoleucine and Valine are all Branched chain amino acids (BCAA's). They are essential for protein synthesis which is stimulated after exhaustive exercise (1) as well as the critical metabolic process in muscle (2, 3). The metabolic roles of Leucine include energy production and the modulator of muscle protein synthesis via the insulin signalling pathway. There is a reason to suggest that it helps maintenance of muscle mass during weight loss (4). Leucine has also been shown to help in the direct maintenance of glucose homeostasis by improving the redistribution of glucose via the glucose – alanine cycle (5).
Inactive
Micro Crystalline Cellulose
Micro Crystalline Cellulose is a non-active ingredient which is made up of refined wood pulp. This substance doesn't degrade during digestion and is preferable in tables due to it being able to form hard but dissolve quickly.
Magnesium Stearate
Magnesium stearate does not induce any nutritional benefits. The main reason for this substance being in the supplement is that it is a lubricant for the machinery that manufactures the product.
Silicon Dioxide
Silicon Dioxide doesn't add any nutritional benefits to this supplement. The main reason for silicon dioxide in this supplement is that it aids in the even distribution of the active ingredients in this supplement.
With the vast amount of research on the effect of BCAA supplementation on strength exercise, this supplement is fully capable of helping aid the maintenance and promotion of muscle growth, as well as the reduced effect of DOMS. This supplement is ideal for people who want to gain muscle mass. This product can be taken pre workout (reduced fatigue) during exercise (muscle nourishment) and post exercise (recovery/repair). This product has no banned substances in reference to the WADA prohibited list when observing the label/ ingredients posted on the website.
*NOTE – This product has not been tested in a laboratory and may contain other substances that may not appear on the label
1 – Tipton, K. D., Ferrando, A. A., Phillips, S. M., Doyle Jr, D., & Wolfe, R. R. (1999). Postexercise net protein synthesis in human muscle from orally administered amino acids. American Journal of Physiology-Endocrinology And Metabolism, 276(4), E628-E634.
2 – Hutson, S. M., & Harris, R. A. (2001). Introduction. Symposium: Leucine as a nutritional signal. The Journal of nutrition, 131(3), 839S-840S.
3 – Layman, D. K. (2002). Role of leucine in protein metabolism during exercise and recovery. Canadian journal of applied physiology, 27(6), 646-662.
4 – Layman, D. K. (2003). The role of leucine in weight loss diets and glucose homeostasis. The Journal of nutrition, 133(1), 261S-267S.
5 – Herman, M. A., & Kahn, B. B. (2006). Glucose transport and sensing in the maintenance of glucose homeostasis and metabolic harmony. The Journal of clinical investigation, 116(7), 1767-1775.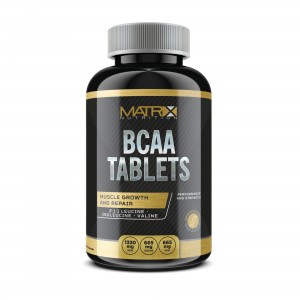 | | |
| --- | --- |
| Use for |  Recovery / Lean muscle |
| Website |  matrix-nutrition.co.uk |
| Price |  £9.99 – £17.99 |