Applied Nutrition Vegan Pro
Vegan Pro is a product from UK based company Applied Nutrition. This product states that it can contribute to the growth and maintenance of Muscle Mass. This review will aim to examine the ingredients in this product to see if it can support the claims made.
Soya Protein Isolate (
Soy
)
Unlike other plant based sources; soy protein powder has the same amino acid profile as whey protein but due to not containing any lactose it is the perfect choice for both vegans or people with a lactose intolerance; with evidence of the same benefits (1) . Made from defatted, dehydrated soy bean flakes it has been found to help with lowering cholesterol levels (2).
Pea Protein Isolate
Pea Protein has been shown to have the same effect on muscle mass as whey protein (3). It also contains a healthy amount of iron with a low amount of carbs,fat and sugar; which could be of benefit for people wanting to better control their blood glucose levels, (4).
Derived from yellow split peas the methods of extraction can vary ranging from salt extraction, micellization as well as alkaline extraction among many others, (5). One study found that the protein content of pea protein was higher than soy (6). Despite the positive benefits of Pea protein it has been found to be low in methionine which may need to be supplemented due to liver damage if insufficient,(7).
Brown Rice Protein
Rice Protein is extracted from rice flour and has been found to help mostly for post exercise recovery, (8). It does contain lysine, (an amino acid essential for muscle growth), however due to the lower quantity it the effects may occur in the longer term.
Xanthan Gum (Thickener)
Xanthan Gum are water soluble dietary fibres, which have been reported to reduce total cholesterol; however there seems to be insufficient evidence to confirm this theory. (9)
Sweeteners (Sucralose, Stevia)
Sucralose is a sweetener that is calorie free. This ingredient is used in many products and is used to make the product taste sweeter and does not have any nutritional benefit.  
Stevia does not have any nutritional benefits as it is a sweetener and sugar substitute extracted from the leaves of the plant species Stevia rebaudiana
This product contains ingredients that can contribute to the growth and maintenance of Muscle Mass. This product should be consumed once a day with a 30g dose. This product has no banned substances when referring to the WADA prohibited list when observing the label / ingredients posted on the website. 
*NOTE – This product has not been tested in a laboratory and may contain other substances that may not appear on the label 
1 – Carroll, K. K. (1991). Review of clinical studies on cholesterol-lowering response to soy protein. Journal of the American Dietetic Association, 91(7), 820-827.
2 – Messina, M., Lynch, H., Dickinson, J. M., & Reed, K. E. (2018). No difference between the effects of supplementing with soy protein versus animal protein on gains in muscle mass and strength in response to resistance exercise. International journal of sport nutrition and exercise metabolism, 28(6), 674-685.
3 – Babault, N., Païzis, C., Deley, G., Guérin-Deremaux, L., Saniez, M. H., Lefranc-Millot, C., & Allaert, F. A. (2015). Pea proteins oral supplementation promotes muscle thickness gains during resistance training: a double-blind, randomized, Placebo-controlled clinical trial vs. Whey protein. Journal of the International Society of Sports Nutrition, 12(1), 1-9.
4 – Mollard, R. C., Luhovyy, B. L., Smith, C., & Anderson, G. H. (2014). Acute effects of pea protein and hull fibre alone and combined on blood glucose, appetite, and food intake in healthy young men–a randomized crossover trial. Applied Physiology, Nutrition, and Metabolism, 39(12), 1360-1365.
5 – Lam, A. C. Y., Can Karaca, A., Tyler, R. T., & Nickerson, M. T. (2018). Pea protein isolates: Structure, extraction, and functionality. Food Reviews International, 34(2), 126-147.
6 – Gorissen, S. H., Crombag, J. J., Senden, J. M., Waterval, W. H., Bierau, J., Verdijk, L. B., & van Loon, L. J. (2018). Protein content and amino acid composition of commercially available plant-based protein isolates. Amino acids, 50(12), 1685-1695.
7 – Séité, S., Mourier, A., Camougrand, N., Salin, B., Figueiredo-Silva, A. C., Fontagné-Dicharry, S., … & Seiliez, I. (2018). Dietary methionine deficiency affects oxidative status, mitochondrial integrity and mitophagy in the liver of rainbow trout (Oncorhynchus mykiss). Scientific reports, 8(1), 1-14.
8 – Joy, J. M., Lowery, R. P., Wilson, J. M., Purpura, M., De Souza, E. O., Wilson, S. M., … & Jäger, R. (2013). The effects of 8 weeks of whey or rice protein supplementation on body composition and exercise performance. Nutrition journal, 12(1), 1-7.
9 – Jensen, C. D., Spiller, G. A., Gates, J. E., Miller, A. F., & Whittam, J. H. (1993). The effect of acacia gum and a water-soluble dietary fiber mixture on blood lipids in humans. Journal of the American College of Nutrition, 12(2), 147-154.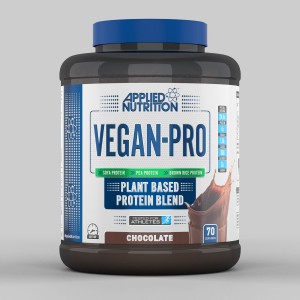 | | |
| --- | --- |
| Use for | Muscle Gain |
| Website | Appliednutrition.uk |
| Price | £39.95 |