Applied Nutrition Leucine EAA Review
Leucine EAA is a product from UK based company Applied Nutrition. This product states that it can contribute to the growth and maintenance of muscle mass. This review will aim to examine the ingredients in this product to see if it can support the claims made.
Leucine
Leucine is one of several Branched chain amino acids (BCAA's). It is essential for protein synthesis which is stimulated after exhaustive exercise (1) as well as the critical metabolic process in muscle (2,3). The metabolic roles of Leucine include energy production and the modulator of muscle protein synthesis via the insulin signalling pathway. There is a reason to suggest that it helps maintenance of muscle mass during weight loss (4). Leucine has also been shown to help in the direct maintenance of glucose homeostasis by improving the redistribution of glucose via the glucose – alanine cycle (5).
SOYA Lecithin
SOYA Lecithin is an emulsifier which means that it helps aid the ingredients to disperse in water rather than separate into oily droplets and water.
This product contains ingredients that can help build and maintain muscle mass with the combination of resistance exercise. This product can be consumed pre, during and post workout. This product has no banned substances when referring to the WADA prohibited list when observing the label / ingredients posted on the website.
*NOTE – This product has not been tested in a laboratory and may contain other substances that may not appear on the label
1 – Tipton, K. D., Ferrando, A. A., Phillips, S. M., Doyle Jr, D., & Wolfe, R. R. (1999). Postexercise net protein synthesis in human muscle from orally administered amino acids. American Journal of Physiology-Endocrinology And Metabolism, 276(4), E628-E634.
2 – Hutson, S. M., & Harris, R. A. (2001). Introduction. Symposium: Leucine as a nutritional signal. The Journal of nutrition, 131(3), 839S-840S.
3 – Layman, D. K. (2002). Role of leucine in protein metabolism during exercise and recovery. Canadian journal of applied physiology, 27(6), 646-662.
4 – Layman, D. K. (2003). The role of leucine in weight loss diets and glucose homeostasis. The Journal of nutrition, 133(1), 261S-267S.
5 – Herman, M. A., & Kahn, B. B. (2006). Glucose transport and sensing in the maintenance of glucose homeostasis and metabolic harmony. The Journal of clinical investigation, 116(7), 1767-1775.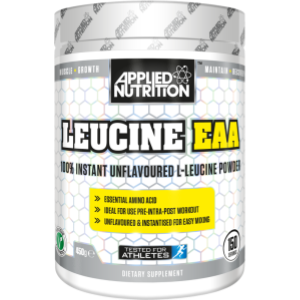 | | |
| --- | --- |
| Use for |  Muscle Gain |
| Website |  appliednutrition.uk |
| Price | £24.99 |